Ordered List
Date: 11/06/2007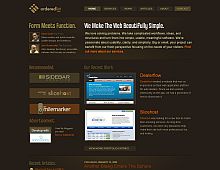 Rate It:
Color Scheme
Hovered color:
Selected color:
Comments (5)
Hasn't this website already been around for months? I'm surprised that you only added it in now...
It's definitely an old site, yes. Last time I looked at it the design was different though. I stumbled across the site again just now, and liked the newer design enough to post it.
#2:

georgec

on 11/06 at 04:48 AM
too dark!!!!!!!!
#3:

A dude...

on 11/06 at 06:26 AM
Actually I kind of like the design. It has a neat earthy tone to it.
it has to be the ugliest f*king site I have seen posted/featured on cssdrive and one the ugliest anywhere! For all the talk of accessibility and making sites available to the blind, comes a website only a blind person can truly enjoy :(

From the dark coffee grounds on mudstains color scheme, the whole site seems like a magnified stain on a seedy hotel mattress (who havent been on one of those huh?) to the faint hubris of the author who implores his visitiors "Copyright © 2004-2007 Steve Smith | All Rights Reserved | Donít steal my stuff, itís bad karma." damn straight!

If you steal this graveyard looking monstrosity, a grave you deserve!
#5:

mark

on 11/07 at 12:17 AM
(Total Pages: 1)
Commenting is not available in this weblog entry.