one.Twenty.Seven
Date: 01/06/2010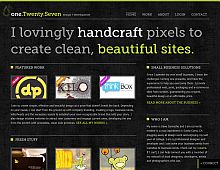 Rate It:
Color Scheme
Hovered color:
Selected color:
Comments (2)
Very nice looking site! That page to page fade out / fade in really blows chunks though... Looks like it is desperately trying to look like Flash... its pointless... lose the fade and its killer!
#1:

a dude

on 01/08 at 12:00 AM
If linking to W3C validator, then you should properly make it validate.
#2:

another due

on 01/13 at 12:19 PM
(Total Pages: 1)