Nice Design
Date: 08/27/2005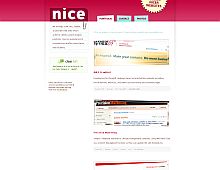 I love the funky big navigational buttons and radiant look of the site. Very nice.
Rate It:
Color Scheme
Hovered color:
Selected color:
Comments (5)
Invalid CSS and XHTML!
#1:

Klayemore

on 08/29 at 10:31 PM
Constructive comment from Klayemore, there ;-) The CSS is valid except one Opera hack (as commented in the CSS for anal types who just look to criticise) and it was valid XHTML Strict (how many sites can say that) until I added tracking code.

So, what kind of browser are you using which has problems interpreting the site as a result of those few 'issues'?
#2:
Paul
on 08/30 at 10:31 AM
So cool, is very clean
#4:

ucin

on 02/20 at 10:25 PM
Look at this anal
#5:
anal
on 07/25 at 07:18 AM
(Total Pages: 1)