Mostly Lisa
Date: 02/15/2008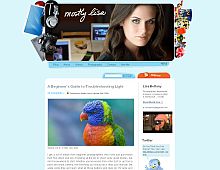 Rate It:
Color Scheme
Hovered color:
Selected color:
Comments (1)
am not an ordinary women.
DARE & DASHING is my nature.

1. Fight when the war is on, then there is no need of fighting after the war is over....

2. Great oppurtunities are not seen with your eyes
They are seen with your mind

3. Trust no future however pleasant

4. Never make someone ur priority, if you are an option for him/her.

5. Life is not measured by the number of breathes we take...but by the number of moments that take your breath away

6. Alwayz try ur best to get whatver u love.....
otherwise u will be forced to love whatver u get

7. I KNOW LIFE IS TAXING AND DEATH IS RELAXING........LET ME LIBERATE UR DIVINE SOULS FROM UR STINKING BODIES

8. perform today as if there were no tomorrow

9. Dream as if you'll live forever. Live as if u will die today.

10.By the time u realise that ur father was right, u'll be having a son who thinks that ur wrong.

11. Truth is often a stranger than a fiction .....!!!

12. CHARACTER IS MORE BIGGER THAN INTELLECT !!

13. Judgement comes from experience, experience comes from poor judgement

14. Happiness is not having what you want but it is wanting what you have

15. When an idea exclusively occupies the mind, it is transformed into an actual physical or mental state.

16. Religion is the manifestation of the Divinity already in man
(Total Pages: 1)
Commenting is not available in this weblog entry.