Mint
Date: 09/17/2005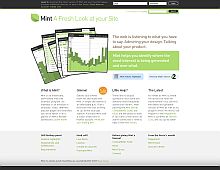 The design is very crisp, and the colors are simply invogorating. I also love the protruding screenshot of the product. Overall just great.
Rate It:
Color Scheme
Hovered color:
Selected color:
Comments (2)
Lovely! I really like this kind of design. Another great job!

Regards,
Piero.
yep / Mint is realy cool - and its soft intterface is sweet as well / now reading about product - look nice if it's usefull I'll buy it ;)
(Total Pages: 1)
Commenting is not available in this weblog entry.