Mighty Goods
Date: 02/18/2005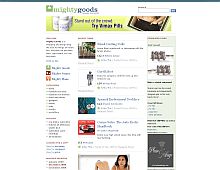 What a gorgeous 3 column "blog" design. From the top strip to the equal height right-most column, everything just comes together perfectly. Oh yes, and the choice of colors- very nice.
Rate It:
Color Scheme
Hovered color:
Selected color:
Comments (4)
Blue and green just goes together! This really shows the beauty of CSS. I love the color scheme and the over all cleanness of the layout. Very nice!
#1:
Matt
on 02/26 at 06:44 AM
A great 3 column layout .The selection of color and fonts are really great
#2:
sc18
on 02/28 at 06:55 AM
this was designed by Doug Bowman of StopDesign
#3:
Bryan
on 03/09 at 05:03 AM
(Total Pages: 1)
Commenting is not available in this weblog entry.