Microformats
Date: 09/22/2005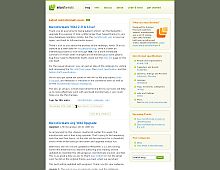 The subtle use of gradient backgrounds and curved edges transforms an otherwise typical two column design into something more.
Rate It:
Color Scheme
Hovered color:
Selected color:
Comments (2)
A simple two column layout made very gorgeous by the artistery of Dan. A grand work
#1:
sc18
on 09/29 at 01:56 AM
The color is so simple and yet so amazing.
(Total Pages: 1)
Commenting is not available in this weblog entry.