Mad Carrot
Date: 06/06/2005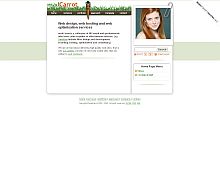 What a bright, inspiring design! I love the subtle shadows and warm color selections.
Rate It:
Color Scheme
Hovered color:
Selected color:
Comments (6)
wow, that red head distracts you from the content, shes gorgeous!
#1:

fred

on 06/06 at 06:16 AM
Lol focus on the design!
#2:
admin
on 06/06 at 12:51 PM
but shes really gorgeous for a webmaster and her picture is about the design
#3:

enis

on 06/07 at 01:38 AM
This is a really nice design
#4:
Conann
on 06/07 at 06:05 PM
The visual elements of this site are awkward and clumsy. The site feels incomplete and the photograph contextually out of place.
#5:

Scott

on 06/08 at 12:27 AM
I don't think the girl on the site actually made it, its just stock photography!
#6:

libwella

on 07/12 at 09:06 AM
(Total Pages: 1)