Macromedia
Date: 09/06/2004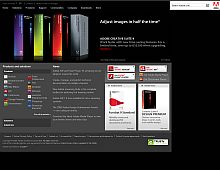 Macromedia's adoption of web standards on their site no doubt also helps them in the marketing department. I love the gradient background and subtle use of Flash for navigation.
Rate It:
Color Scheme
Hovered color:
Selected color:
Comments (2)
beautiful style
#1:

wan

on 10/27 at 07:12 AM
Adobe have ruined it now :(
(Total Pages: 1)
Commenting is not available in this weblog entry.