Left Brained
Date: 11/30/2005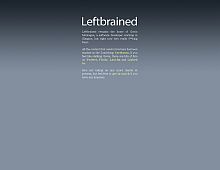 Nice use of a gradient background IMO, and I especially like the simple but elegant CSS bar at the top.
Rate It:
Color Scheme
Hovered color:
Selected color:
Comments (1)
I fully agree with you . The CSS bar is astonishing
#1:
sc18
on 12/01 at 04:23 PM
(Total Pages: 1)
Commenting is not available in this weblog entry.