Lealea Design
Date: 11/15/2005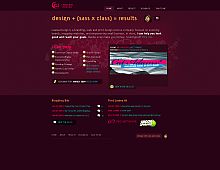 This is a fabulously stylish design. The the elegant CSS menu bar at the top to the hip gradient pink background, I love it.
Rate It:
Color Scheme
Hovered color:
Selected color:
Comments (3)
Great content > great design. Alignment, colours, graphics, fonts all excellent!
#1:
Peter
on 11/15 at 11:19 PM
Short on concept/message, but long on skill and design sensibility. This really is archetypal Web 3.0 design with every visual cue of contemporary blog style design, and information accessibility immediately tangible. Although it's largely window dressing (sans the quotes), it's done so well I prefer it to concept for these intents and purposes.
#3:

B. Soto

on 12/04 at 03:49 PM
(Total Pages: 1)
Commenting is not available in this weblog entry.