Kutztown University
Date: 11/16/2005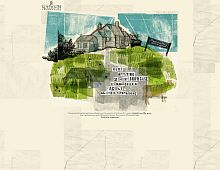 This is an unorthordox, and hence eye catching, design. I love the sketchy look.
Rate It:
Color Scheme
Hovered color:
Selected color:
Comments (3)
Very interesting, not just because the artwork is eye-catching and appropriate for the site, but because the curriculum covers nothing at all I did on a Communications Studies course, and I did none of their subject areas either! So two comms students can have a completely different world view! Great site!
#1:
Peter
on 11/16 at 01:30 PM
I agree, the artwork definitely blends in very nicely here.
#2:
admin
on 11/16 at 02:08 PM
The site is very eye-catching, inspiring and ideal for an educational organization offering such curriculam. But the pages inside are a bit downer compared to the homepage.
#3:
Rohan
on 11/20 at 11:46 PM
(Total Pages: 1)