Kartooner
Date: 08/31/2004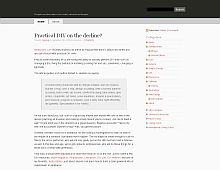 This is a great clean 3 column design. The color selections are excellent.

Note: Screenshot updated Dec 6th, 05'.
Rate It:
Color Scheme
Hovered color:
Selected color:
Comments (2)
Thanks for the relisting. :) Very cool to see my design in here, again.
Nice elegant design.color scheme and typography is very good
#2:
sc18
on 05/01 at 12:00 AM
(Total Pages: 1)
Commenting is not available in this weblog entry.