Karlik Design
Date: 11/16/2007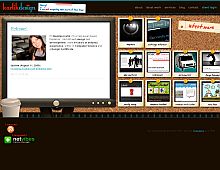 Rate It:
Color Scheme
Hovered color:
Selected color:
Comments (6)
Sorry, just too busy for me.
I just want to hit that "back" button ASAP.
#1:

Gunnar Bruun

on 11/16 at 12:51 PM
Great graphics and artistry, but, meystery meat navigation and i'm not quite sure what the point is. Also, the resume looks completely different from the rest of the Web Site.
#2:
Edwin
on 11/16 at 08:01 PM
You know what... it's Karlik DESIGN! I think you've taken a fresh DIFFERENT out of the box approach here.

Whether people (some people) like it or not I think it's fresh and creative. I don't have any problems with the resume being presented like it is... it's professional and it sort of says okay here's me as a straight professional without the wrapping... here's me straight forward.

I like the people who dare to be different. You took a fresh approach and did something different. Thank goodness for some creative people!!! Sure in some instances DON'T MAKE ME THINK... but hey it's a design site and to say it was wrong (which it's not) would be for me to tell Picaso or Angelo hey look I don't like how you've presented your painting -- do it like I like.

If it failed miserably okay -- but it doesn't! Great graphics, colors, and some DIFFERENT presentation ideas.
#3:

cssdriveMIKE

on 11/20 at 01:58 PM
the Firefox picture looks ugly.
overall, too many graphics.
#4:
chris
on 11/26 at 06:54 PM
Don't like the multiple scrollbars... kinda confusing..
#5:
Bill
on 02/07 at 03:46 AM
(Total Pages: 1)
Commenting is not available in this weblog entry.