Jeff Smith Designs
Date: 01/05/2006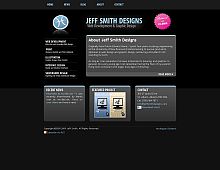 Dark colored designs when done right can be very effective. I love the glossy, sleek look of this site. Nice use of round corners and gradients as well.
Rate It:
Color Scheme
Hovered color:
Selected color:
Comments (5)
Overall nice reflective look. However, for the menu effect at the top, the white text is already showing even before onmouseover in IE. Sliding doors effect gone wrong?
#1:

Designer Dude

on 01/05 at 11:37 AM
It's actually a problem with the way IE displays the padding. It's on my list to fix when I get a chance.
Nice design and uses my favourite colours for readability :-)
#3:
Peter
on 01/05 at 07:46 PM
Very nice, i dont have any real comments on the layout, its good, but ure logo is bad quality (good design, but saved lower quality)...it drags my eye to it lol.

<3 thou :)
great blackish design! One of the best "black" designs I've seen so far.
(Total Pages: 1)
Commenting is not available in this weblog entry.