Janice Mucalov
Date: 03/20/2007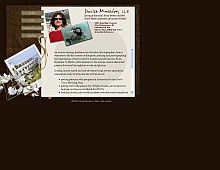 Rate It:
Color Scheme
Hovered color:
Selected color:
Comments (2)
Nice design. An attractive site that is easy to navigate. Really like the photo's page and the use of Lightbox to feature the full size images. Sweet.
#1:

darrinp

on 03/21 at 04:18 AM
This is not good design

looks like very basic to amateur photoshop work

we need better quality examples on this shocase

this does not deserve a 7.8
#2:

anon

on 03/22 at 10:08 PM
(Total Pages: 1)
Commenting is not available in this weblog entry.