Jane and Ronnie
Date: 02/19/2007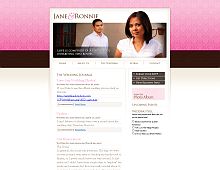 Rate It:
Color Scheme
Hovered color:
Selected color:
Comments (3)
mannak
#1:

oğuzhan

on 02/22 at 05:11 PM
Beautiful website. Rather self indulgent drivel for the content.
#2:

Martin Short

on 06/06 at 07:00 AM
I'd like to apologise for the above comment. I was having a bad day! If you can't be self-indulent about your wedding, when can you be?!
#3:

Martin Short

on 06/07 at 05:43 AM
(Total Pages: 1)