James lai Creative
Date: 07/04/2008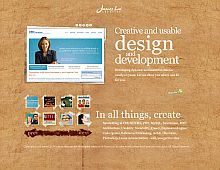 Rate It:
Color Scheme
Hovered color:
Selected color:
Comments (5)
This guy's designs are plagiarism: http://www.jameslaicreative.com/images/imageid.php?project_id=100 is Ellis Labs.
#1:

Plagarist

on 07/06 at 05:51 PM
You're insane, after checking the two are so vastly different from each other my only conclusion is you're quite deranged. Why don't you check your sources before making random accusations?

To the designer: Great work! Keep it up.
#2:

Sanity

on 07/08 at 03:08 PM
Love the textural background. Supurb work.

As for #1 comment?.... It's nothing like it.
(Total Pages: 1)
Commenting is not available in this weblog entry.