Isle Creative
Date: 04/07/2010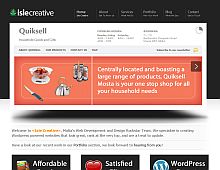 Rate It:
Color Scheme
Hovered color:
Selected color:
Comments (15)
One thing that is bugging be quite much in the shadow below the flash slideshow effect. I think it is much too dark.
Why would you feature on cssdrive a commercial template purchased by these guys, instead of the original demo page?

http://www.kriesi.at/demos/display/
#2:

Constantin

on 04/07 at 10:33 AM
@Constantin is right I guess. The template of the link provided looks very professional.
Constantine is right this is a template. Lame.
The template designer deserves the credit and this company should be ashamed for taking credit for it.
This is such a great design collection. It's looks very professional. Hostgator
It looks like one of templates that you can buy ... thats strange for design company.
Nice color theme. Page bookmarked!
Really great insight. Some very memorable designs and color schemes.
Good Point Press
#9:
Raheja
on 04/21 at 12:48 PM
Combination of colors like
#10:
povar
on 04/22 at 07:58 AM
Commenting is not available in this weblog entry.