Indie Anthems
Date: 11/07/2006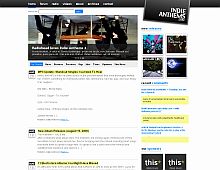 Rate It:
Color Scheme
Hovered color:
Selected color:
Comments (2)
Why is this so high? its nice and clean but its been done to death and has no effort put into it.
There's something to say for simplicity.

I like it.
#2:
Dave
on 11/09 at 05:08 AM
(Total Pages: 1)
Commenting is not available in this weblog entry.