IMEMS
Date: 07/14/2006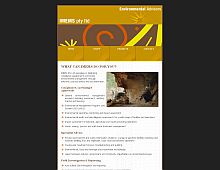 Simple, no fuss 1 column layout. It's refreshing in a way.
Rate It:
Color Scheme
Hovered color:
Selected color:
Comments (1)
Genius, i dont care you don't like it, I do. The background pattern is GREAT and the brownish colors work with the theme. The code is messy though, and the graphics, the text and the title, and so is the SEO. But I dont care, this is a refreshing idea...
(Total Pages: 1)
Commenting is not available in this weblog entry.