Igera Batista Mission
Date: 03/25/2008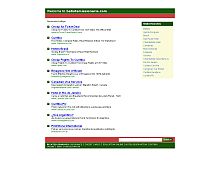 Rate It:
Color Scheme
Hovered color:
Selected color:
Comments (6)
it's amag.
#1:

raj thakur

on 03/27 at 12:19 AM
it's beautiful
#2:

raj thakur

on 03/27 at 12:23 AM
I've been looking for a design for my proposed website for nature photography and this is perfect, I love it, class and sophisticated - I love the way the boxes are different sizes and arranged offset a little. Very interesting and artistic.
#3:

tamsin

on 04/25 at 01:15 PM
Excelente combinacao de cores e muito bom gosto na definicao do layout. Perfeito, aos meus olhos.
#4:

Marcos

on 05/24 at 06:37 PM
d
#6:

chaturanga

on 07/26 at 09:08 AM
(Total Pages: 1)
Commenting is not available in this weblog entry.