Hosting Indonesia
Date: 05/22/2007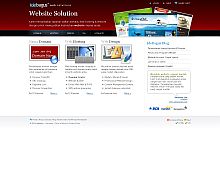 Rate It:
Color Scheme
Hovered color:
Selected color:
Comments (11)
Good and clean design for the website you have there. And nice use of XHTML and CSS.
Neat website, simple and easy to understand!!
#2:

Alen S

on 05/25 at 04:00 PM
One of the best design for web host I 've ever seen.
#3:
Rusdi
on 05/29 at 07:52 AM
Really good thanks

http://download.filestock.net/344ba2/lost.html
Very good and clean design for the website you have!
What an amazing read! Enjoyed reading every bit of it. Must admit that you are one of the best bloggers I ever saw.Thanks for posting this informatve article here.
Web Hosting Templates
This is a very clean and neat design! I can see that you are putting a lot of time and effort into your blog and detailed articles! I am deeply in love with every single piece of information you post here. Will be back often to read more updates!
uk web design
I will be definately coming back as you host some very informative posts on your site. Great resource. email hosting
Wow! Very nice clean and simple design. Easy to navigate through too!
Cheap Hosting
Commenting is not available in this weblog entry.