Hooked Web Design
Date: 05/22/2009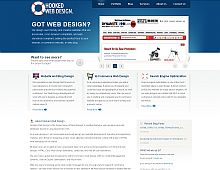 Rate It:
Color Scheme
Hovered color:
Selected color:
Comments (14)
It looks like so many other sites I've seen.
yeah, looks like a typical WordPress template, seen a million times, similar offered free all over the net...
#2:

a guy

on 05/22 at 09:08 PM
if you would like to buy this template, just go to Themeforest.net. It for sale for $25.

here a link:
http://themeforest.net/item/bluelight-wordpress-20-portfolio-and-blog/40433
#3:
curtis
on 05/24 at 06:03 AM
Huh!! this should be removed from CSS right away!! what a joke! a $25 template showcase as a web design company!!?? Yeesh! No wonder the business is full of "cheap" web design services...
#4:

aguy

on 05/25 at 03:48 AM
The so called "designer" says:
"As a web designer, I am passionate about website design"
What a plie of s**t.
This kind of stuff should never appear on a sire dedicated to good design
oh brother ( roll eyes ), look at the portfolio, you can see the huge difference in skills. he has his site as a new portfolio entry
Hooked Web Design site redesign and development. After a year with the current design a new simple website with a powerful back end was required for this project to showcase the my portfolio. The website was created with the use of Wordpress as a Content Management System, with the addition of some Jquery and miscellaneous Javascript functionalities.
Could have just kept it short with "bought a template for $25"... The only site that looks like the same level of skill as his template is "Holbrook Diner" which is a free template from freeCSStemplates.org. This is where web designers are going?
Don't award this guy with a presence at css drive!
#6:

a dude

on 05/25 at 04:22 PM
It's pretty shoddy that a themeforest template can end up on such a prestigious site as cssdrive. I've always held it in much higher esteem than some of the others - I hope that they rectify this soon, and remove this listing.
Smells like a template to me...
I am agree with the post, Such a nice Post and informative aw well.Can you please provide me some more links for similar articles on my mail id.
Commenting is not available in this weblog entry.