HeadStrong
Date: 04/19/2005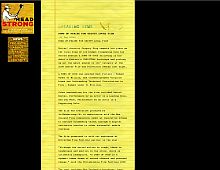 Not sure about the practicality of a design like this for most sites, but it certainly is unique.
Rate It:
Color Scheme
Hovered color:
Selected color:
Comments (1)
The whole notepad paper design has been used many times but I really like this take on it.
#1:

Grey

on 10/31 at 12:52 AM
(Total Pages: 1)
Commenting is not available in this weblog entry.