Harvey Brothers
Date: 12/25/2005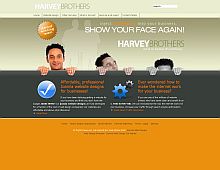 A very aesthetically pleasing design and layout. Only minor issue occurs in lower resolution screens, where a horizontal scrollbar occurs.
Rate It:
Color Scheme
Hovered color:
Selected color:
Comments (3)
This design is great. I love the use of colors and the typography.

Well done.
#1:

Jon

on 01/03 at 05:30 AM
Nice work ! i really like the typography and color combination. :)
#2:

Imran Salahuddin

on 01/04 at 08:38 AM
(Total Pages: 1)
Commenting is not available in this weblog entry.