Hand Crafted CSS
Date: 03/13/2010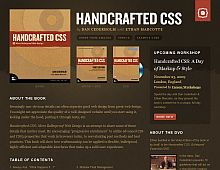 Rate It:
Color Scheme
Hovered color:
Selected color:
Comments (4)
If I'm not wrong this is the website of the book written by two authors... really good book too.
The conference (which I attended in Salem, MA) that goes along with this book was also very good.
#2:
Justin
on 03/16 at 04:21 PM
Very nice, i like the color scheme. Keep the good work
pariuri sportive
#4:

observer

on 03/24 at 05:30 PM
(Total Pages: 1)
Commenting is not available in this weblog entry.