GatoStyle
Date: 04/06/2006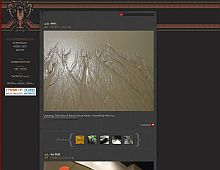 I like the unorthodox header that spans the entire width of the page. It helps make the fixed content columns underneath appear more "spacious", for some reason. Nice subtle use of shadows too.
Rate It:
Color Scheme
Hovered color:
Selected color:
Comments (1)
Very cool. The only thing I'm not crazy about is the times new roman font on the left side.
(Total Pages: 1)
Commenting is not available in this weblog entry.