Gary Leib
Date: 10/20/2004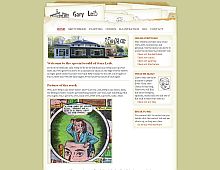 The HTML and CSS for this site is as clean as a whistle. But perhaps most striking are the images that all fit so naturally into the site's interface. Great looking site.
Rate It:
Color Scheme
Hovered color:
Selected color:
Comments (3)
Nice looking site! The only 'but' is the navigation menu at the top. The horizontal links list at the top display without spaces between each link when viewed in I.E 5.0 on Windows.. though not suprising (it's I.E after all). Anyhow a nice looking interface and very imaginative too.
#1:

David

on 10/26 at 05:53 PM
You're right! Fortunately the links look fine in IE5.5, which makes up a good bulk of the remaining IE5.x users I suspect.
#2:
admin
on 10/27 at 05:48 AM
Very creative design. I just love how the envelope gives it that artistic appearance.
#3:

Matt Sanders

on 12/24 at 02:54 AM
(Total Pages: 1)
Commenting is not available in this weblog entry.