Gandr Web Design
Date: 09/23/2009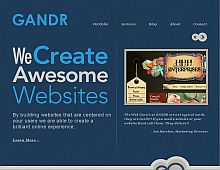 Rate It:
Color Scheme
Hovered color:
Selected color:
Comments (4)
Thanks guys - We're honored!
Nice simple layout... very frustrating on the portfolio page though! why have a bunch of images in your portfolio without a link to experience the actual sites!? Can't experience the usability of their portfolio sites... not good. Go have a gandr!
#2:

a guy

on 09/23 at 10:57 PM
Sorry about that - The project detail page is finished in .PSD format but not completely coded. Should be up in the next week or so. Thanks for the feedback!
Really like the colours, style and layout of the website, looks pretty good to me!
(Total Pages: 1)
Commenting is not available in this weblog entry.