Fortyeight Designs
Date: 05/11/2006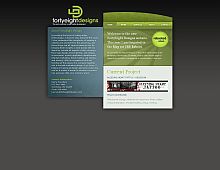 I love the compactness of this design, not to mention its elegance, from the horizontal CSS menu to the shadow effects.
Rate It:
Color Scheme
Hovered color:
Selected color:
Comments (2)
Great design. I like the contrast and the curve lines. i have nonetheless to point out that if you resize text size the effect is ruined.
#1:

Fernando Figoni

on 05/12 at 06:30 AM
Nice design, very nice. Green textures on the top is perfect!!!
#2:

Alezandr Martinenko

on 05/12 at 12:13 PM
(Total Pages: 1)
Commenting is not available in this weblog entry.