Forrst
Date: 05/26/2010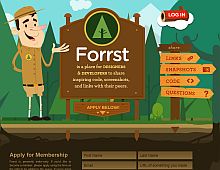 Rate It:
Color Scheme
Hovered color:
Selected color:
Comments (9)
This a very cool and fun design. It has a lot of character to it. Good Job!!

Brisbane Web Design
#2:

tony

on 05/30 at 07:55 PM
Awesome color combination, simple landing page with a contact form, not much content there for the search engines but clean layout
Best, Jack from Riding Mower
#4:

Mower Jack

on 06/01 at 10:42 AM
The design appears to be more on nature. This is perfect for all nature lovers out there. The combination of all the colors is just so perfect.Jack Mower
#5:
JackM
on 06/04 at 05:02 PM
The nature's colours are indeed amazing estetik. I've never seen those nudibranch before lazer epilasyon merkezleri. Isn't it something that we're trying so hard to get the perfect colour combinations plastik cerrahi, while they're all around us – the Mother Nature got them all so perfectly blended plastische chirurgie. Yes, nature's colors do blend perfectly together burun estetiği! So often I am struggling to find a decent palette and you're right, all we have to do is look around us meme büyütme! And some of those animals and plants can sure be vivid, can't they meme küçültme? They absolutely can. Just look at the peacock's feathers – you would think nothing can look so over the top, but look again, and burun estetiği – The Nature has certainly created its own rules – blue and green never looked better together before karın germe ameliyatı. Though Van Gogh did perfectly blend those two in many of his paintings, especially in Starry Night kulak estetiği. I didn't even think of a peacock! Yes cinsel organ estetiği! Blue and green go really well together but sometimes it's tough to find the right staturations vajina daraltma… I guess we all sould have a few nature photos on hand for help with choosing our colors vajina estetiği.
#7:
veli
on 06/11 at 01:16 PM
I love seeing entries like this, where color palettes are inspired by photos bacak germe. I have some beautiful photos of Greece and Yellowstone Ntl Park (and countless others botoks) that I should dig up to see what I can pick from them. I always forget that my own photo collection can be a great resource for color selection göğüs büyütme! I like stuff like this too. You should do a similar post with your photos! I would love to see them göğüs küçültme. I'm pretty color uncoordinated, so seeing things like this (and Color Schemer) really motivate me to get better at that burun estetiği! Many people seem to have enjoyed this and I'm glad I could offer something useful and inspirational karın germe! I would like to know more about the process vajina estetiği. Meaning, how is it you chose those colors from the photos, your thought process vajina daraltma. Would you have time to choose a photo and walk us through the selection process brustvergrößerung? There wasn't really a method, at least not a conscious one brustverkleinerung! I just picked out the colors that seemed to be the most dominant in the images nasenkorrektur. Nature is the best designer in the world, just neture arange colors becouse she nead to, and it stems from an amazing range of colors scheidenstraffung. schamlippenverkleinerung, schamlippenkorrektur.
#8:
veli
on 06/11 at 01:19 PM
I like the camping theme of the design. It really suit to any environmental topic most especially camping related site. The color combination is so lively.Maricel
(Total Pages: 1)
Commenting is not available in this weblog entry.