Firewheel Design
Date: 01/23/2006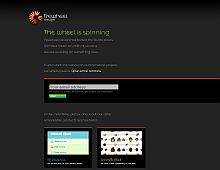 Just a fabulously sleek, elegant black design. Very well done indeed.

Note: Screenshot updated Jan 23rd, 06'.
Rate It:
Color Scheme
Hovered color:
Selected color:
Comments (4)
i think is to good nice
#1:
Asif
on 06/19 at 03:55 AM
Very nice site, the colors are great, the layout works, but there is a minor glitch in IE6 as the home page footer jumps when mousing over the bottom link in the green column.
Superb site, vibrant colors, professional logo
ok
#4:
rodel
on 03/16 at 08:09 PM
(Total Pages: 1)