Favorite Things
Date: 10/23/2006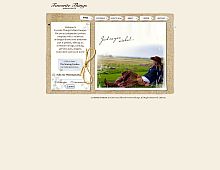 Rate It:
Color Scheme
Hovered color:
Selected color:
Comments (9)
Wow. Great design. I can't believe it's built in drupal. All the other sites I have seen built in drupal look terrible. Where are you guys based?
#1:

Chris

on 10/26 at 04:28 PM
WOW! You guys did a wonderful job with the layout, I am also interested in where you guys are located.
#2:
Tim
on 10/26 at 05:17 PM
Amazing quality. The embedded images are fantastic and the integration of them is so well designed. Brilliant!
#3:
John
on 10/26 at 05:20 PM
Wow, this site is killer.
#4:

Lana

on 10/26 at 06:28 PM
What a beautiful site. The designer is so original. I have not seen anything like it...
#5:

devon1975

on 10/27 at 08:03 AM
That's a nice site, it looks very clean.
#6:

Jayden

on 10/27 at 08:25 PM
This site is beautiful... It's very welcoming and the site suits the content to a T! Fantastic!
I love the soft yet contemporary look of this website. The photography is beautiful
#8:

susan

on 11/05 at 12:41 AM
I have to say this is quite the site and the product looks awesome as well!
#9:

Darrell

on 11/07 at 02:52 PM
(Total Pages: 1)