Family Vacation Guide
Date: 07/14/2008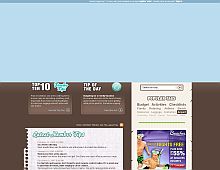 Rate It:
Color Scheme
Hovered color:
Selected color:
Comments (3)
great site, love the flash integration. a little bit of animation goes a long way!
#1:
mooty
on 07/14 at 09:27 AM
It was an interesting read but still...i think
it could have been much better in so many ways
http://atlanticcity.com
Hell of a lot better then atlantic city
(Total Pages: 1)
Commenting is not available in this weblog entry.