Evolvingpage
Date: 11/30/2007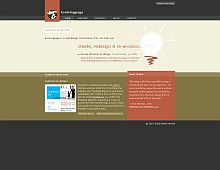 Rate It:
Color Scheme
Hovered color:
Selected color:
Comments (2)
I am going to preface with a small disclaimer. I am not a professional designer/web guy. I am an amateur at best.

I like the use of colors and the layout and the fact its simple, but it seems like they could have done something more with some of the elements in the middle. For example: the "Evolve Your Site. Evolvingpage is a web design consultancy that can help you" to me looks kind of out of place and slapped in there.
(Total Pages: 1)
Commenting is not available in this weblog entry.