Etnies Girl
Date: 05/26/2006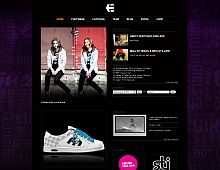 This design, with its rich and unconventional interface, is surely attention grabbing, if nothing else.
Rate It:
Color Scheme
Hovered color:
Selected color:
Comments (2)
ooooh...I love it? how much does it cost? just curious.
nice !!!
i love the lay-out
well done
congrats
#2:
johan
on 05/30 at 08:09 PM
(Total Pages: 1)
Commenting is not available in this weblog entry.