Erik Mazzone
Date: 06/15/2007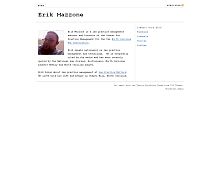 Rate It:
Color Scheme
Hovered color:
Selected color:
Comments (3)
I really like this type of design..still trying to figure out how it works...
Nice and clear design.
#2:
baeza
on 09/14 at 01:55 AM
Nice. I'd like to know what the font name is that is used on the main navigation.

I think all sites on cssdrive should list the font names to help others who like those fonts.
#3:

Victor

on 01/03 at 05:10 PM
(Total Pages: 1)
Commenting is not available in this weblog entry.