Emaginacion
Date: 07/25/2005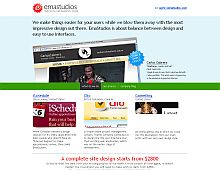 Some elements of this design, such as the main navigational tabs being on the far right, feel awkward, but overall, I like it enough to feature this site.
Rate It:
Color Scheme
Hovered color:
Selected color:
Comments (1)
I love this design! so clear, so simple!
#1:

Richard Coven

on 07/26 at 02:51 AM
(Total Pages: 1)
Commenting is not available in this weblog entry.