Dynamic Drive
Date: 07/07/2005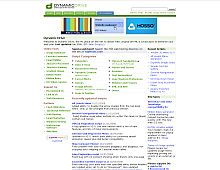 Some nice CSS elements in this design, such as the tab buttons at the top and the decorative CSS spruced lists. Design by Aurum 3.
Rate It:
Color Scheme
Hovered color:
Selected color:
Comments (4)
I came across this site the other day and was in shock because I remember the old days of going there all the time for some JavaScript tid bits =p The design definitely is better, although a little clustered up.

Excellent redesign though. Well needed too. Good job Aurum 3.
good to see a 'big' site standardised.
#2:
Andrew
on 07/09 at 05:02 PM
I am happy to see this resource jumped in to standards too.. I agree however that it is a bit cluttered.
#3:
Lori
on 07/13 at 09:15 AM
good to see a 'big' site standardised
#4:

Tang

on 12/20 at 12:55 PM
(Total Pages: 1)