Discerning Reader
Date: 08/31/2007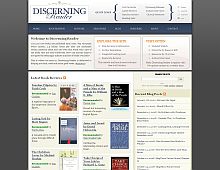 Rate It:
Color Scheme
Hovered color:
Selected color:
Comments (3)
I really like the design, but enlarge the font and watch all hell break loose. For a site that is about reading, for those that love reading thats pretty inexcusable. (FF 2.0)
#1:

skateHardreTard

on 09/01 at 07:35 AM
I also like design. It's professional. I saw some problem about firefox.
#2:
SNaRe
on 09/02 at 09:33 AM
Really nice Design, I like it. Also some problems in Opera 9.25!
#3:
Sven
on 02/14 at 02:27 PM
(Total Pages: 1)
Commenting is not available in this weblog entry.