Dellustrations
Date: 09/22/2009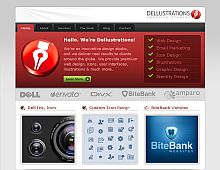 Rate It:
Color Scheme
Hovered color:
Selected color:
Comments (3)
There were other sites which were far worth being listed in the cssdrive list.

Plz do not take my comment otherwise.
nice work i love the colors
This site is very nice!...
#3:

a dude

on 10/04 at 10:10 PM
(Total Pages: 1)
Commenting is not available in this weblog entry.