Dean Okaley
Date: 06/21/2008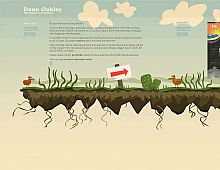 Rate It:
Color Scheme
Hovered color:
Selected color:
Comments (10)
very interesting approach. Graphics great, code great. However, i give you only 8/10 because i dislike horizontal scroll.
#1:

guy

on 06/21 at 09:10 AM
I agree with "guy", horizontal scroll is bad. However, if there could be a sort of grab and drag feature (probably accomplished with mootools) somewhat like in pdfs, that would capitalize on your horizontal orientation.
#2:
Edwin
on 06/21 at 11:18 PM
I agree that horizontal scrolling sites are ugly and annoying, although, I appreciate the fact that the background image stays put and only the content scrolls. Makes it less annoying, but annoying nonetheless.
#3:

a guy

on 06/23 at 02:38 AM
i'm not normally a fan of horizontal scrolling, but i think this one works really well. especially with the mootools smooth scroll.
#4:

dave

on 06/23 at 07:51 AM
Thanks for the comments!
#5:

Dean

on 06/23 at 10:26 AM
Agreed, horizontal scrolling is not cool. I like the graphics, and colors though. Nice work
I can appreciate the uniqueness of the site. What if the web was originally all horizontal scrolling, no vertical scrolling? I think it's what we're used to so anything other than that makes it "annoying".

I think the directional arrows underneath the paragraphs could be more prominent so it's obvious that clicking on those will move the page left and right. Very easy to navigate once I noticed that (instead of grabbing the scroll bar on the bottom.) Well done!
#7:

joan

on 07/14 at 11:45 PM
To say, horizonal scroll is ugly is just stupid, would be the same as to say: vertical scrolling is beautifull.

Not any scroll for itself is beautifull or ugly, what it makes beautifull or ugly is the content to be scrolled, and that one is pretty well done.

Wouldnt be any nicer if it were a vertcial scrollable site, just the contrary
#8:

matthi

on 08/16 at 02:58 PM
Its beautifull site. But this horizontal scroll is bad.
(Total Pages: 1)
Commenting is not available in this weblog entry.