Dave Myers
Date: 09/05/2009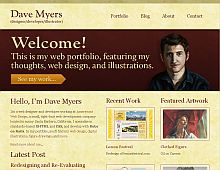 Rate It:
Color Scheme
Hovered color:
Selected color:
Comments (2)
eeeiiia! that pic on the home page makes him look gravely ill! eesh medic! we need a medic!
#1:

a dude

on 09/16 at 12:04 PM
Please keep criticism constructive. If you see something wrong with my painting, be a bit more specific; I encourage constructive criticism to improve my work.
(Total Pages: 1)
Commenting is not available in this weblog entry.