Dave Harper Design
Date: 11/25/2009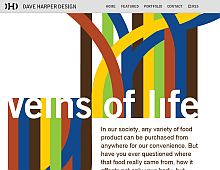 Rate It:
Color Scheme
Hovered color:
Selected color:
Comments (4)
Uhg, bigger clunkier version of Jason Santa Maria's site. This is pushing the limits of "inspiration".
#1:

Cody

on 11/25 at 04:22 PM
I just had a look at Jason Santa Maria's site and there is no resemblance?? Anyway, it's nice to see people pushing the visual envelope... credit to the whomever the original creator was.
eeesh! I agree, that is pretty lame! Check out that contact form! It's about as big as a billboard sign! reminds me of my kids Maga blocks set! Safe from swallowing hazards! 2/10
#3:

a dude

on 11/27 at 07:23 AM
I think its a cool concept, but not executed well.
(Total Pages: 1)
Commenting is not available in this weblog entry.