Dan Conaway
Date: 12/17/2009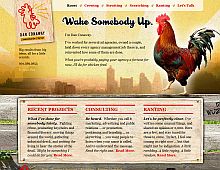 Rate It:
Color Scheme
Hovered color:
Selected color:
Comments (2)
I really like the concept of this website with the main theme of the owner.
Colours and theme is great. However somehow, i don't like the "standard font", 16px times. It makes the overall website look unprof. The top navigation bar is also quite boring, with a unfitting red color.

And it does not validate.
#2:

guy

on 12/18 at 11:26 AM
(Total Pages: 1)
Commenting is not available in this weblog entry.