DA Studio
Date: 11/25/2006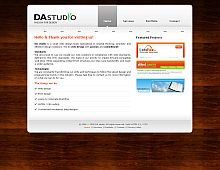 Note: Screenshot updated Nov 25th, 06'.
Rate It:
Color Scheme
Hovered color:
Selected color:
Comments (4)
Uh, this site takes 10 years to load, and is totally unflexible with various amounts of content or text resizing. A poor addition to this gallery.
#1:

Tommy

on 06/28 at 06:01 PM
I am not agree with Tommy. Indeed the site loads slow but I LIKE THE IDEEA.
#2:

dragos

on 06/29 at 05:42 AM
I like that the pages are small. Some sites don't need long pages. It's easy to look at.
#3:

Taki

on 06/29 at 10:40 AM
It takes long to load, but it is a great design nonetheless. I like how you split up the "paper" to be diagonal.
(Total Pages: 1)
Commenting is not available in this weblog entry.