Custom T-Shirts
Date: 01/05/2009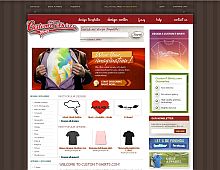 Rate It:
Color Scheme
Hovered color:
Selected color:
Comments (3)
Thanks!!!
#1:
Darko
on 01/05 at 04:15 PM
Love the customt-shirts.com label bottom right!...this is a beautiful site! man, the level of talent of current designers, and the level of quality of website design is stunning!
#2:

a guy

on 01/05 at 06:38 PM
(Total Pages: 1)
Commenting is not available in this weblog entry.