CSS Princess
Date: 07/17/2006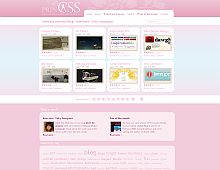 A very feminine, fresh looking design.
Rate It:
Color Scheme
Hovered color:
Selected color:
Comments (3)
i am macho, but i like clean and sexy design and simple solutions, they are safe and you can make few simple changes in code to make some big changes on page.
CSS Princess
#2:

HaoChunhui

on 10/09 at 03:03 AM
really want to have a web design.. pls.. help me!!
#3:
Martha
on 04/22 at 11:09 AM
(Total Pages: 1)
Commenting is not available in this weblog entry.