Corvus Design Studio
Date: 04/14/2010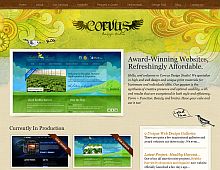 Rate It:
Color Scheme
Hovered color:
Selected color:
Comments (10)
Nice work!
#1:
povar
on 04/22 at 07:55 AM
It's all very beautiful.
#4:
seks
on 04/24 at 03:31 PM
You have some great designs on your website! This one has great use of color tones. Great work!

Thanks,
Brisbane Web Design
Acar Ofis, konularında uzmanlaşmış teknik kadrosu ve montaj ekipleriyle yıllardır kazanmış olduğu deneyim ve birikimleri üretimden montaja ve montaj sonrası desteğe kadar , müşteri memnuniyeti baz alarak hizmet vermektedir.Ürün yelpazesini, gerek teknolojik gelişmelere, gerekse pazarlama faaliyetlerindeki sistemli çalışmalara bağlı genişleterek,Ofis Bölme Duvar,Ofis Bölme ,Bölme Duvar,Ara bölme,Camlı Bölme,Aliminyum Bölme,Büro Bölme,Ara Bölme Sistemleri,Demontable Bölme Duvar,Bölme Sistemleri,Jaluzili Ofis Bölme,Ofis Bölmesi,Kısa Bölme,Ofis Tasarım,Ofis Dekorasyon, alanlarında
AcarOfis, faaliyet göstermektedir.
#7:

zazakis

on 04/28 at 06:49 PM
i like yellows color tone.Good theme.
(Total Pages: 1)
Commenting is not available in this weblog entry.